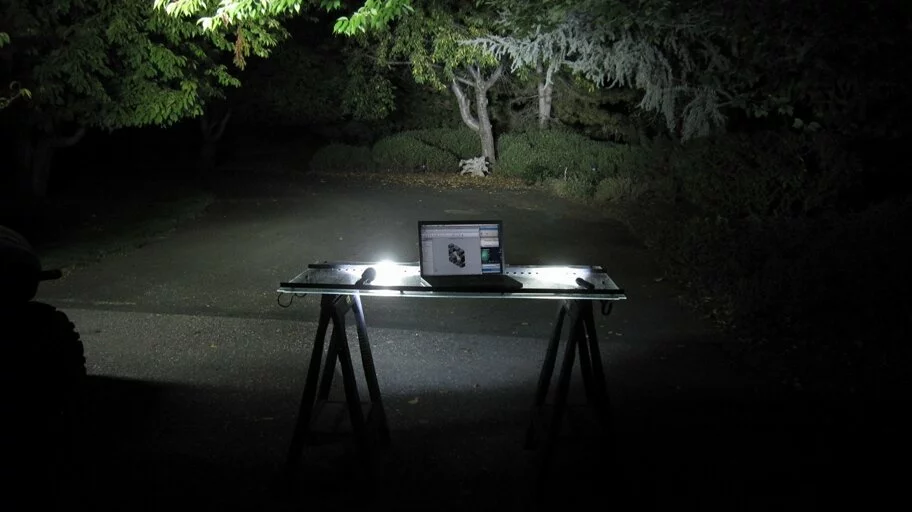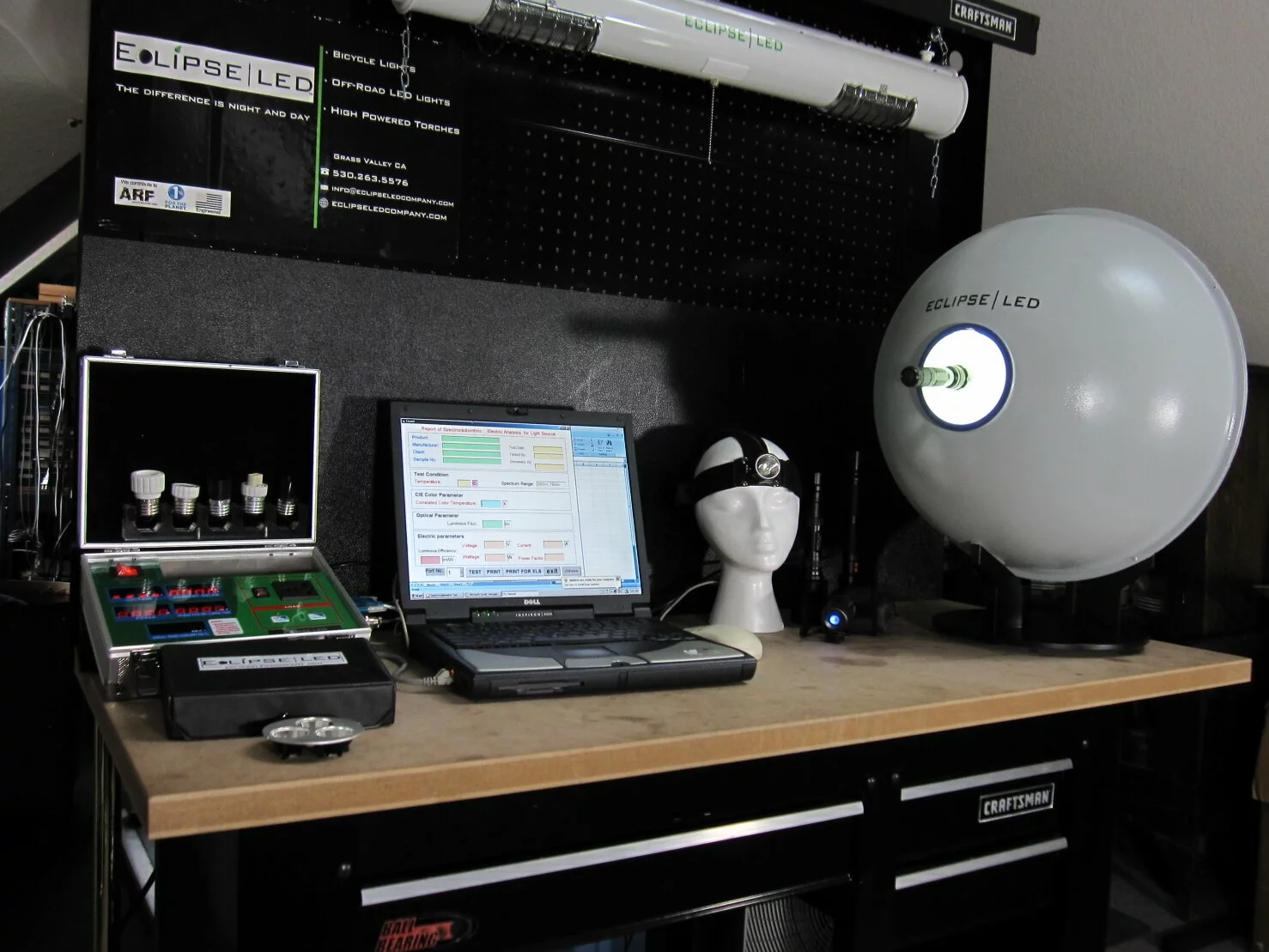 Testing Services
Eclipse LED offers a rare and affordable solution to consumers interested in testing their lights' capabilities, especially lumen testing. We supply a basic array of photometric and electrical measurements to test the performance parameters for a range of light sources including:
• LED
• HID
• Incandescent
• Halogen
…and more
Common items include but not limited to:
• Bike lights
• Flashlights
• Headlamps
…and more
All testing is performed in-house in our laboratory. Our laboratory is equipped with a number of photometric and electrical testing instruments calibrated as closely to IES, CIS, and ANSI standards as possible.
Strong competency in illumination engineering (optical design, research and development) means that our equipment will always be the very most sophisticated available; as we develop new technology we integrate it into our testing capabilities.
Reference Guide(s) for Integral Sphere Measurement:
LED/SSL Measurement  |  General Lamp Measurement
Measurement Services included:
Optical
• Luminous flux (Lumens) measurement
• Correlated Color Temperature (CCT ºKelvin) measurement
• Luminous Efficacy (lm/watt)
Electrical
• Total unit current draw (amperes)
• Total unit voltage draw (volts)
• Peak external unit temperature (ºF)
• Coming soon full battery analysis
Photometric and Electrical equipment used for testing and measurement:
Optical
• 0.5 meter integrated sphere
• spectroradiometer
Electrical
• Fluke multimeter with multiple integrated connection probes
• Infra-Red Thermometer
Testing parameters – Please consider before inquiring for quote:
• Light head/bezel diameter cannot exceed 3.95 inches
• Light must be point source (beam angle)
• Our range for luminous flux and CCT testing is from 50 – 3100 lumens.
• Light sources driven at a constant current (amperes) will give a more accurate luminous flux and CCT reading
• For each model light measured, we test only constant stream light modes including, high, medium, and low beams
Click Here to view Sample Lab Report
Directions for ordering
Our all-in-one package is only $70.00 per model + shipping. We can test from 1-3 samples per model
–Shipping is the responsibility of the customer. Customer pays shipping both ways
*please include return postage or courier account number with shipment for return shipment*
–Each light will be tested for all above stated measurement unless otherwise directed.
–Each model must be sent with a minimum of 1 sample to a maximum of 3 samples
–Testing results will be emailed to customer after receipt of payment
Inquire for a quote by filling out the form below. We will respond within 1-2 business days with further ordering instructions.
Testing Services
SKU
UPC
Model
Fast and affordable
We use a variety of different LED based lights for microbial experimentation including, propagation, consumption, etc. We use different spectra at various intensities to test with. With limited grant funds, we are happy with the service provided by Eclipse LED. They were more than happy to help us with our endeavor for a very affordable price. We will be using them again I'm sure shortly.

---
lumen testing
I needed a fenix flashlight and black diamond headlamp tested for max lumen output. I called a few big laboratories to find out that they would charge about 300 dollars per light! Are you kidding! I googled around and found these guys who did a fantastic job and gave me more than I needed with a fast turn-around time and for a fraction of the cost. I was more than happy with the service, sad to say that the flashlight results were a little underwhelming for what fenix claimed. Highly recommend.

Response: Glad to help Colby. Tell your friends that lumen testing can be affordable.
---
Submit Product Review
---
---