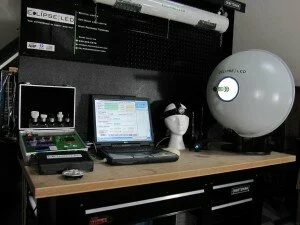 "An element of exaggeration clings to the popular judgment: great vices are made greater, great virtues greater also; interesting incidents are made more interesting, softer legends more soft."  –Walter Bagehot
It seems like yesterday, today, and tomorrow is filled with exaggerated product claims and in the lighting industry it's luminous output. As the story goes, great deals of foreign and domestic lighting manufacturers are players in the "most powerful lamps" and "we are the brightest and largest" game. Reality is however these lumen claims are either greatly over exaggerated and based on a theoretical number, or an outright lie.
In the case of LEDs, the claims have skyrocketed, sometimes reaching double or even triple the actual Out The Front Output of said product. There are few regulations preventing these claims for LED Bike Lights, LED Flashlights, LED Headlamps, and Off Road LED Lights. There seems to be little accountability for these high output lumen claims, especially regarding Asia based manufacturers. Because everyone wants to see a low price and a high lumen output; so instead of companies bumping prices, they will exaggerate lumen output, usually basing their numbers on the LED chips' theoretical output. It almost goes without saying though, that these outputs are based on almost perfect conditions that will never be matched in practical use situations. What needs to be implemented are standardized Lumen Testing services and regulations.
There are a handful of lighting manufacturers who have implemented and helped developed a standard for testing products. The ANSI NEMA FL-1 test is gaining recognition as a base for quality control claims in the recreational lighting world. The NEMA FL-1 test has been standardized, and should be the same when performed by certified testing facilities anywhere in the world. The test features criteria ranging from Lumen Testing to Water Resistance ratings.
With testing like the ANSI NEMA FL-1 procedure slowly being adopted by quality-first manufacturers, the customer won't have to scratch their heads wondering whether or not they're getting what is claimed on the website or box. So if you're tired of being lied to and what to stand against the "lumens claim game", the next time you are in the market for LED Bike Lights, LED Flashlights, LED Headlamps, or Off Road LED Lights, be sure to check to see if the product has the FL-1 rating it deserves.